Have I ever asked a mountain whether I was allowed to take a picture of it?

The project and the installation was realized during the course of Sammy Baloji and Lotte Arndt, at the International Summer Academy of Fine Arts in Salzburg, 2019. [installation, changing dimensions, 2019.]

The installation consists – on one hand – of found objects:  souvenirs from Salzburg dating from the 1980s and our present days, and - on the other hand – it consists of black and white photographs taken in Salzburg in 2019.
A fanfold (a well-known form of souvenirs) of photographs depicting sights of Salzburg (presumably from the 1980s) is installed fold-out and turned upside down so that mainly the description of the sights are visible. Next to it lays a similar fanfold made of black and white photographs taken by the artist (and taken at the same sights/places as those depicted by the other fanfold.)
There can also be found present-day souvenirs (a postcard, a bookmark – both turned upside down–, and a transparent rubber ruler,) all purchased by the artist at the Panorama Museum of Salzburg (housing a cycloramic painting depicting Salzburg, which was made by Johann Michael Sattler in 1829 and was travelled throughout Europe in the next decades, making it the first major touristic advertisement of the city.)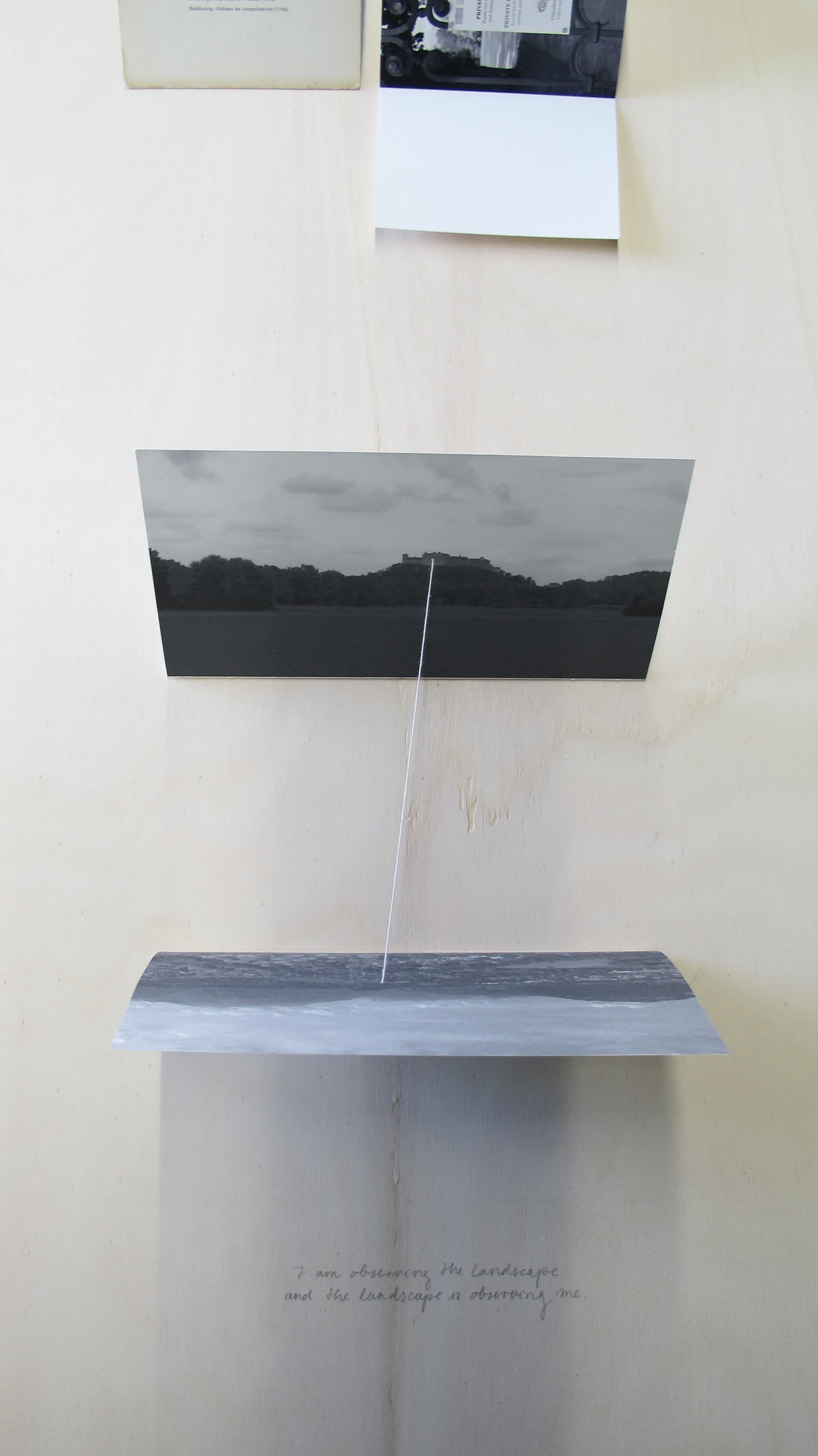 The third part of the installation is a pair of two, facing photographs connected with a  string – one taken from the Fortress Hohensalzburg in the direction of  South-East and one taken of the Fortress from the fields located South-East from the Fortress.)

The installation also consists of handwritten sentences and questions, for example the one giving the title of work: "Have I ever asked a mountain whether I was allowed to take a picture of it?"